Capturing the Young Saver
Erik Daley, CFA
Managing Principal
Introduction
In April we published the white paper, Addressing Retirement Readiness, where we discussed at length plan features that often negatively impact the effectiveness of defined contribution plans.
In this related paper, we focus on "young savers" (the participant population under the age of 40) and how plans are driving behavioral improvements among this group reported to be the least engaged employees with regard to retirement. While each individual is different, collectively this group is in the early stages of their retirement savings process. They generally have lower incomes and competing priorities for spending that interfere with allocating their earnings to retirement savings programs. However it is this same group that is likely to require significantly more retirement savings than their parents in order to secure the same quality of life in retirement. Uncertainty related to Social Security and Medicare is merging with increasing life expectancies to create challenges for even the most financially disciplined among us.
According to a 2012 survey by Forbes magazine, among Generation Y (generally individuals with birth dates in the 1980s and beyond) respondents:
55% have not started saving anything for retirement
64% do not think about retirement
In part, this has led the financial services marketplace and well-meaning plan sponsors to augment their employee education and communication resources. Plan vendors have moved educational content online in an attempt to meet Generation Y where they live. New educational campaigns focus on paying down credit card debt and addressing student loans. Providers have launched phone apps and built entire online communities dedicated to the needs of Generation Y. Despite all of these efforts however, savings and accumulation rates for these employees remain unchanged.
Perhaps the retirement savings deficits among the young savers are not a byproduct of a lack of knowledge. In the same Forbes magazine survey, 73% of Generation Y respondents knew they weren't saving enough. Given the large chasm between knowledge and action, sponsors should be very skeptical of plans and promises that believe changes in behavior are solved by the next mailer campaign or series of one-on-one sit-downs with new employees.
Group and individual participant counseling is one of the only aspects of the defined contribution retirement service that cannot be significantly scaled. Every employee counseling session requires staff time, travel, and preparation. These resources significantly contribute to variability in provider cost. The challenge comes in evaluating the "value" of employee education. While there is little data to support the effectiveness of employee counseling sessions, participants appear to at least appreciate well-delivered employee education, and plan sponsors feel good providing it.
Plan sponsors routinely make vendor decisions based on custom branded education materials, hyper- functional websites, and promises of increased participation that never materialize. We would argue that these education programs are flawed from the beginning; too focused on the wrong topics for the wrong groups. And the promised jump in participation rates are based on strategies the data just doesn't support. As part of our mission to Plan Forward, we believe intensive employee education and counseling resources are necessary if they are tailored to the participants near retirement who are faced with critical decisions that will impact the success of their transition out of the workforce. While individual education can be crucial to improving the retirement readiness for participants already engaged in the retirement saving program, it does little for those employees not currently enrolled in the plan.
For plan sponsors focused on addressing the needs of their young saver population, employee education is rarely the answer. For young savers, employee education is the last step in augmenting an already successful retirement plan design structure.
Improving Retirement Readiness Among Young Savers
Young savers consistently respond to automated "calls to action." Almost without regard to the reason for their prior failure to act, young savers stick with auto-enrollment and auto-escalation programs. Plans working on their young saver population should work on a three-stage approach to improving retirement readiness.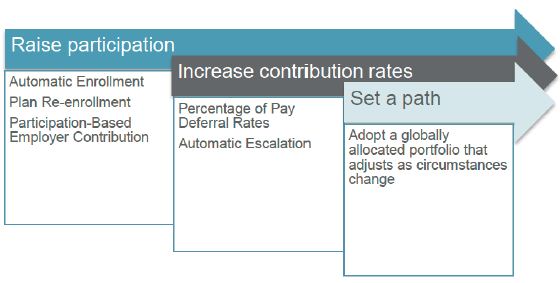 1) Raise Participation
When we assess the effectiveness of defined contribution retirement plans, we initially review plan health in the aggregate. If the defined contribution plan were a defined benefit plan would it likely be adequate in funding levels, contributions, and asset allocation to meet the funding needs of its participants. With that assessment we can begin addressing variables that can improve the performance of the plan; most importantly, the participation rate.
Very few defined contribution plans contain contributions adequate to generate the replacement income participants will need in retirement. Nearly every employer contribution structure depends on participant contributions to bridge the retirement readiness gap. Fortunately addressing participation rates is one of the easiest fixes a plan sponsor can make.
Automatic Enrollment
The growth in plans with automatic enrollment has been dramatic. From 2006 to 2011 Fidelity reports that utilization of automatic enrollment is up nearly 10-fold to 21.3% of their current defined contribution clients. The reason for the change is simple. In decisions about retirement saving, employees often "follow the path of least resistance." One of the most comprehensive studies on the topic of plan design in relation to participant behavior comes from the National Bureau of Economic Research, Defined Contribution Pension: Plan Rules, Participant Decisions, and the Path of Least Resistance, released in 2001. Their data related to pre- and post-implementation of automatic enrollment shows that participation rates nearly double for new hires. Additionally, post-automatic enrollment withdrawal (participants later opting out of participation) was statistically negligible.
Additional data is also emerging which shows the level of automatic enrollment does not have a strong impact on participant behavior. The opt-out rates for plans that set automatic enrollment at 6% do not differ dramatically from those plans with a 3% deferral rate.
Plan Re-enrollment
For many plan sponsors, adding automatic enrollment prospectively is easier than adopting an automatic re-enrollment feature that would impact current employees who have not yet elected to participate or may be participating at a rate less than the deferral rate. However, early results for plans utilizing a structure to automatically re-enroll employees have been positive, with increases in participation similar to plans enrolling new hires. The most aggressive sponsors have gone further to an annual automatic re-enrollment program, requiring participants who wish not to defer into the plan to make an annual election of 0%.
Participation-Based Employer Contribution
Participation-based employer contribution formulas, more commonly referred to as "matching contributions," have long been used as economic incentives to encourage participation in retirement plans. Unfortunately numerous studies on the impact of employer contributions on participant savings rates are inconclusive. While plans with a match generally have better participation that plans without a match, the impact could be the result of job candidates who value saving, gravitating to employers who match contributions. Five studies on this topic have come to very different conclusions:
Higher employer match rate reduces the average 401(k) participation¹
Match rates have no effect on participation²
Match rates correlate to plan participation rates3,4
Match rates have a small but positive rate on plan participation rates5
There is a positive effect of the match rate on total employee contributions at low match rates, but a negative effect on employee contributions at higher match rates6
In short, trying to solve participation exclusively with the carrot of matching employer contributions, may have less impact than one would hope.
2) Increase Contribution Rates
Once participants begin saving, inertia becomes even more powerful than in the enrollment process. If we capture 80-90% of employees by addressing enrollment practices, how can we increase employee contribution levels to meet necessary target savings levels?
Percentage of Pay Deferral Rates
The pernicious impact of inflation negatively affects everyone's retirement by eating away at purchasing power over time. While much of the focus is on inflation's impact on plan assets, it also may impact contributions into plans. One of the easiest ways to increase the amount employees defer over time is to eliminate fixed dollar deferral elections for participants. Requiring participants to make a percentage of pay election results in larger contribution amounts in dollar terms as pay increases. Conversely, fixed dollar elections typically result in the percentage of pay being deferred declining with wage escalation.
Automatic Escalation
Unfortunately, using the escalating wage base as the primary method to increase deferral rates does not materially help plans or participants. Increasing the actual percentage is necessary to improve plan health.
In the paper, How Much Should I Save for Retirement (June 2013), Massi De Santis, PhD and Marlena Lee, PhD, estimate aggregate savings rates required for a 25-year old to replace 40% of their pre-retirement income by age 65.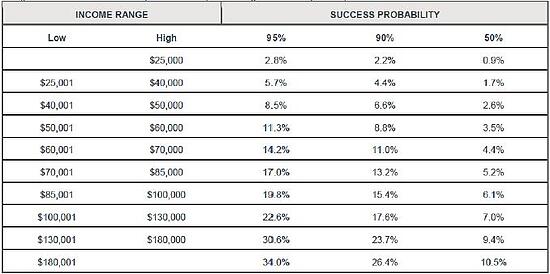 If we presume participants would like better than a coin-flip likelihood of income adequacy, savings rates of more than 10% are more likely required. Even employers with strong matching or non-elective contributions should encourage strong deferral rates in order to help ensure employees achieve their objectives.
Automatic escalation programs as a method to graduate participants to higher levels of saving are also being adopted by plan sponsors. Participants seem amenable to increases, especially if those increases correspond to annual cost-of-living adjustments and merit increases.
A recent survey by the University of Chicago Booth School of Business suggests that automatic escalation programs are growing rapidly at the large end of the defined contribution market. Among respondents from the 25 largest corporate 401(k) plans in the country, 11% of their eligible participation base was utilizing some sort of automatic escalation program.
3) Set A Path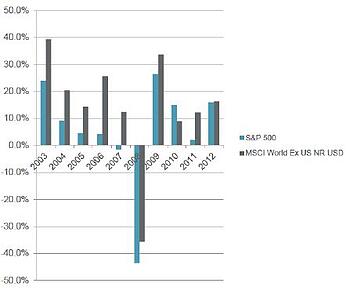 Young savers needn't worry too much about finding the right path or the best path. Most young savers just need a path. Unfortunately for Generation Y participants, their limited experience with markets has likely been a wild ride.
For young savers, questions related to investment allocation are frequently intimidating and can serve as potential hurdles to optimal savings behaviors. Young savers have lived through, and in many cases participated in, the worst market for equity market returns in recent memory. Additionally, they have witnessed increased levels of economic brinkmanship, discussions of debt ceilings and government shutdowns. These recent experiences have contributed to young savers under allocating to more volatile assets like stocks, despite the inescapable fact that the long-term time horizon makes them ideal candidates for equity investments.
In participant directed defined contribution plans, participants always maintain the right to manage their allocated retirement savings in the way they believe best meets their objectives. However, given the data about how many participants in Generation Y are being auto-enrolled into their retirement savings plan, plan sponsors need to give consideration to default investment structures that can maintain their suitability for decades.
In our white paper, Qualified Default Investment Alternatives, we address at length the various product structures available to plan sponsors utilizing default investment strategies. For young savers, where the majority of their investible assets may be in the retirement plan, having either a target date investment structure or managed account alternative often provides the best solution for decreasing equity exposure over time, and rebalancing portfolios to help ensure appropriate risk.
Improve Financial Health
Once plan sponsors have successfully tackled participation and savings rates, they generally experience much more engaged and interested participants. Young savers become well positioned to augment their knowledge, and adjust their investment, budgeting, and financial planning skill sets. At this point young savers typically graduate to Accumulators, a population we address in related papers.
Well thought out employee education augmented by individual financial counseling and advice can improve plan performance. Perhaps more importantly however, it will help individual employees improve the quality of their life at an early age.
Education targeted at young savers and new employees should be focused on getting participants enrolled in the plan. Participants who seek education on investment options specifically should have the ability to receive it, but generally the education program for young savers should focus less on the importance of investment selection and more on the simple act of retirement savings. Frequently, plan sponsors use orientation as an opportunity to educate new hires on the retirement plan structure. Plan education is useful, but should not be a requirement or impediment to enrolling and participating in the plan's benefits.
Conclusion
Much has been written about the failure of defined contributions plans as primary savings vehicles for many participants, and especially for those past the age of 40, the data supports that challenges lay ahead. However, for young savers, the picture is much brighter. Generation Y will be the first generation to have 401(k) accounts available for their entire working career, giving them more time to reach their goals. Data from the Fidelity recordkeeping system shows that nearly 50% of Generation Y employees have been auto-enrolled in their workplace savings plan.
Now is the time to consider what plan changes can aid young savers in meeting their retirement goals, and in doing so improve the overall effectiveness of your retirement plan.
1 Andrews, Emily S. (1992), US Social Security Administration. Office of Retirement and Disability Policy. "The Growth and Distribution of 401(k) Plans," in John Turner and Daniel Beller, eds. Trends in Pensions 1992 (Washington, DC: US Department of Labor, Pension and Welfare Benefits Administration), 149-176

2 Bassett, William F., Michael J. Fleming, and Anthony P. Rodrigues (1998), "How Workers Use 401(k) Plans - The Participation, Contribution, and Withdrawal Decisions, " National Tax Journal, 51 (2): 263-289

3 Papke, Leslie E. and James M. Poterba (1995), "Survey Evidence on Employer Match Rates and Employee Saving Behavior in 401(k) Plans," Economics Letters 49 (3): 313-17

4 Even, William E., and David A. Macpherson (1997), "Factors Influencing Participation and Contribution Levels in 401(k) Plans," Florida State University Working Paper

5 Kusko, Andrea, James Poterba and David Wilcox (1998), "Employee Decisions with Respect to 401(k) Plans," in Olivia Mitchell and Sylvester Schieber, eds., Living with Defined Contribution Pensions: Remaking Responsibility for Retirement (Philadelphia: University of Pennsylvania Press), 98-112

6 Papke, Leslie E. and James M. Poterba (1995), "Survey Evidence on Employer Match Rates and Employee Saving Behavior in 401(k) Plans," Economics Letters 49 (3): 313-17
Information contained herein is provided "as is" for general informational purposes only and is not intended to be completely comprehensive regarding the particular subject matter. While Multnomah Group takes pride in providing accurate and up to date information, we do not represent, guarantee, or provide any warranties (express or implied) regarding the completeness, accuracy, or currency of information or its suitability for any particular purpose. Receipt of information herein does not create an adviser-client relationship between Multnomah Group and you. Neither Multnomah Group nor any of our advisory affiliates provide tax or legal advice or opinions. You should consult with your own tax or legal adviser for advice about your specific situation.