Full Scope vs. Limited Scope Audits in Retirement Plans
Erik Daley, CFAManaging Principal
INTRODUCTION
Audits are an essential part of the Employee Retirement Income Security Act (ERISA) reporting structure. However, the audit aspects that make employee benefit audits different from general financial audits, mean that their benefits are frequently misunderstood. A good audit should offer comfort that a plan's financial statements have been subject to an independent examination and that the plan's operating processes are in good order.
ERISA §103(a)(3)(A) provides that administrators must engage an independent qualified public accountant "on behalf of all plan participants." While plan participants do not directly use the plan financial statements, the audit requirement should help assure participants that there is a high likelihood that participants' records are being properly maintained.
Effective internal controls establish the foundation of a strong retirement savings program. One of the primary purposes of the independent audit is to conduct a review of the plan's internal controls to measure their adequacy and efficacy.
ERISA §103(a)(3)(A) and 104(a)(1) require the administrator of an employee benefit plan subject to Part 1 of Title I of ERISA to file an annual report with the Secretary of Labor. The annual report is generally required to include a Form 5500 Annual Return/Report of Employee Benefit Plan.
For qualifying plans, ERISA §103(a)(3)(C) provides an option for a limited scope audit. The limited scope audit enables the auditor to rely on investment information certified by certain banks or insurance carriers. The limited scope exemption does not extend to participant data, contributions, benefit payments or other information.
HISTORY
The ERISA limited scope exemption was a result of the belief by Congress that assets held by banks and insurance carriers were already subject to governmental audit and regulation and therefore less risky than assets without regulated custody.
DEPARTMENT OF LABOR SELF-EXAMINATION
In 2010 the DOL ERISA Advisory Council studied Employee Benefit Plan Auditing and Financial Reporting Models. In their report, they identified significant misunderstandings about the application of the limited scope audit.
What is covered by a limited scope audit
What entities can offer asset certifications
The significance of the certifications with regard to asset valuation and the audit
The importance of a limited scope audit
Comparison of Major Aspects of Full Scope Audits and Limited Scope Audits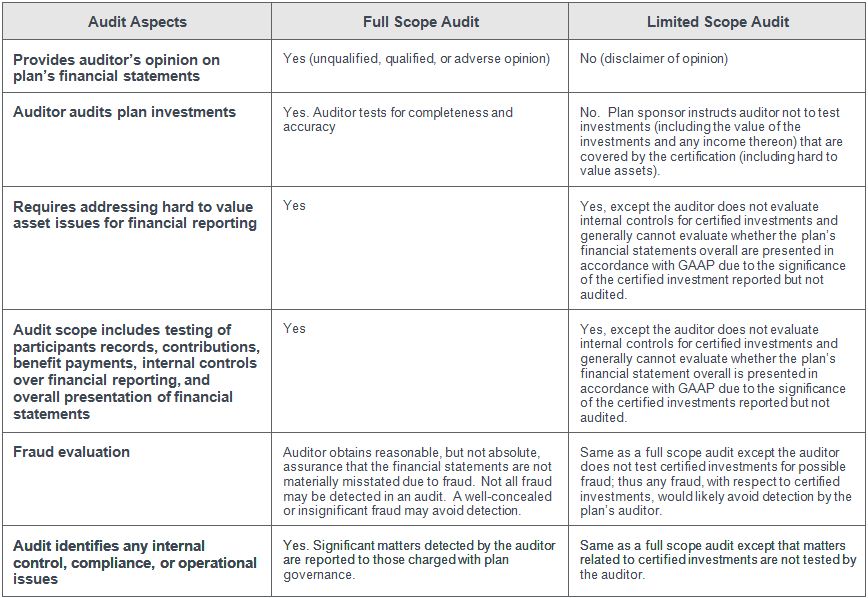 Source: Department of Labor, Employee Benefit Plan Auditing and Financial Reporting Models (2010)
The conclusion of the ERISA Advisory Council was that the limited scope audit should not be repealed, and that there was a "deficiency of specific material evidence of participant harm caused by limited scope audits and the concern for possible increased costs that could result from a full scope audit."
The Council did issue recommendations to address concerns about the quality of the limited scope audits being issued.
The Department should clarify the kinds of entities that are qualified to issue certifications under existing regulations and guidance and reiterate that only qualified entities may issue certifications
The Department should amend the limited scope audit regulations to required that the certification of investment information include a disclaimer that investment values may not have been subject to independent verification of fair value by the certified
The Department should require Plan administrators to include any certification issued in connection with a limited scope audit in the Plan's Form 5500 filing or other annual report
The Department should issue informal education materials targeted to Plan sponsors and Plan auditors that would assist them in understanding their respective obligations with respect to limited scope audits
At nearly the same time as the issuance of this report by the Department of Labor, the AICPA began using State of Financial Accounting Standards 157 (FAS 157) to provide greater insight into assumptions that may have been used to determine asset values.
CONCLUSION
For the overwhelming majority of defined contributions plans, high-quality limited scope audits provide the proper balance of process examination and cost. When augmented by an examination of an independent SSAE 16 audit of the asset custodian, diligent plan sponsors can provide the required protections for their plan participants.
Multnomah Group, Inc.
Phone: (888) 559-0159
Fax: (800) 997-3010
www.multnomahgroup.com