Investment menu design is a key fiduciary responsibility that each retirement plan committee will undertake. Committees and their advisors combine investment theory with behavioral finance to develop a set of investment options used by a diverse group of participants with varying levels of investment knowledge, interest, and time to dedicate toward developing their personal investment strategy.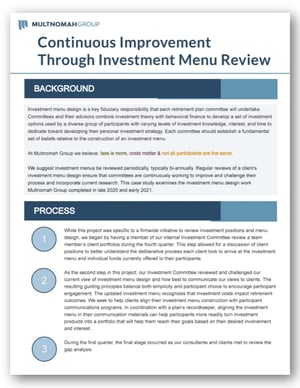 Each committee should establish a fundamental set of beliefs relative to the construction of an investment menu.
To learn more about the work we have done to review our clients' investment positions and menu design, download our investment menu review case study.