Who We Are
---
Multnomah Group was founded in Portland, a city with a culture built by artisans who demonstrate added care, passion, and pride in what they craft. That mindset drives us to keep our target on creating forward-thinking, highly-customized plans as unique as the needs of our clients.
We are a 100% fee-for-service independent retirement plan consulting firm. We guide our clients toward better outcomes by navigating around complexities to practical and proven solutions, without outside influences navigating our narrative. Fueled by what is best for plan sponsors and their employees, our focus is on our clients, not our own self-interest.
Below we highlight the values of our organization which serve as the foundation for what has allowed us to successfully partner with so many institutions for nearly 20 years. We have an unwavering focus to serve our clients with excellence.
To do so, we strive to: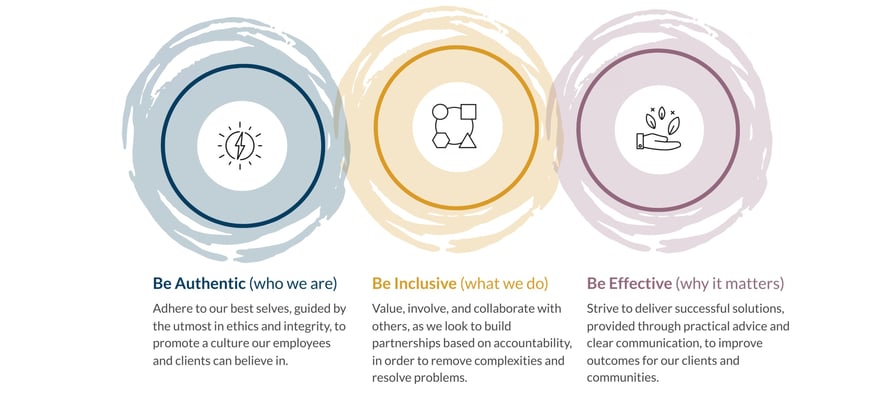 Our History
Multnomah Group is a 100% employee-owned firm organized as an S-corporation with no parent, investor, or affiliate relationships.

In November 2003, founding principals Erik Daley and Scott Cameron launched a company where they could provide independent retirement plan consulting services to employers. Both had been on the vendor side of the industry and recognized the disconnect between plan sponsors and retirement plan vendors, and how, more often than not, vendors focused on what was best for business, not for clients.

In starting Multnomah Group, Erik and Scott wanted to work directly with plan sponsor clients, unconstrained by the limitations of any single vendor platform. They sought investments from family and invested their own capital to create an employee-owned firm.

How an organization structures itself plays directly into how it operates, makes decisions, and serves clients, as well as how it boosts its employees' performance and creativity. As a plan fiduciary, it's important for you to know the different structures of institutional retirement plan consulting organizations, the benefits and drawbacks of each structure, and why we feel our way is the most beneficial to you and your participants.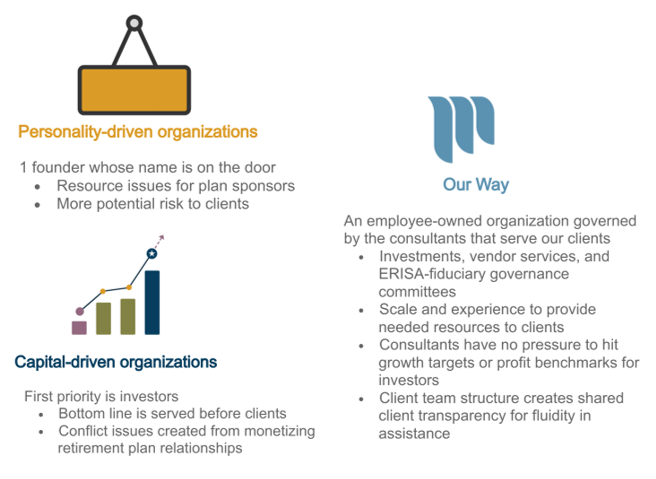 Today, Multnomah Group's priority is the same as in 2003, to help clients create a world-class retirement plan for their participants without the shadow of conflicts or shareholders. We help plan sponsors understand the responsibilities and navigate the complexities of overseeing their retirement plan. Our annual fiduciary program focuses on a plan sponsor's fiduciary requirements for investment oversight, vendor and plan management, and plan governance, creating a comprehensive strategy to arm them with the tools and knowledge to have a positive impact on their retirement plan. We do this through a practical approach by focusing on the plan sponsor, their plan, and their participants, not the industry or the vendors within it. We work in partnership with our plan sponsor clients and their benefits, human resources, and finance teams to design and implement a retirement program that aids participants in achieving a successful retirement.