If a meeting takes place and there are no
minutes or formal record, did the meeting really occur?
---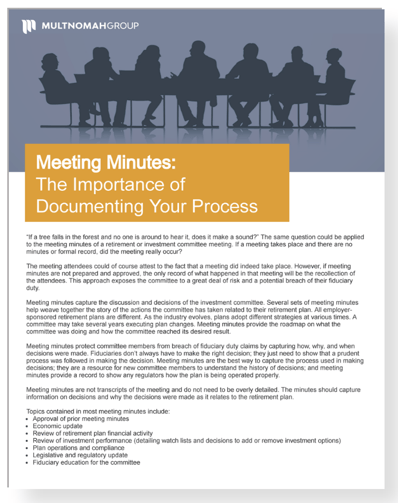 Meeting minutes capture the discussion and decisions of the investment committee. Several sets of meeting minutes help weave together the story of the actions the committee has taken related to their retirement plan. All employer sponsored retirement plans are different. As the industry evolves, plans adopt different strategies at various times. A committee may take several years executing plan changes. Meeting minutes provide the roadmap on what the committee was doing and how the committee reached its desired result.
Download our meeting minutes resource walking through what plan sponsors need to know about their meeting minutes. Also, we will include our sample meeting minutes template for plan sponsors to reference in their own documentation efforts.