We partnered with a new client in 2017 to complete a detailed review of their retirement plans. The goal was to improve investment performance, reduce plan expenses and improve participant outcomes.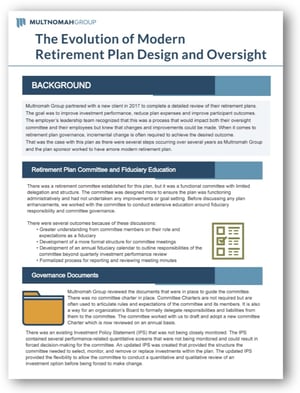 The employer's leadership team recognized that this was a process that would impact both their oversight committee and their employees but knew that changes and improvements could be made. When it comes to 401(k) and 403(b) retirement plan governance, incremental change is often required to achieve the desired outcome. That was the case with this plan as there were several steps occurring over several years as Multnomah Group and the plan sponsor worked to have a more modern retirement plan.
To learn more about the work we have done with this client (and many more!) download our plan design and oversight case study.